Natalie Portman plays ballet dancer Nina in "Black Swan" (2010).



"Darren Aronofsky's upcoming Black Swan looks to feature more eye candy than an eye candy store.
Kristina Anapau in "The Verdict" a dramatic short directed by Nicolas Mezzanatto.



"Moviehole just learned that rising horror starlet Kristina Anapau has joined the cast of the thriller.

"Currently lensing in New York City" says , "the psychological thriller centers on a talented ballerina (Natalie Portman) in the New York City Ballet who is tormented by a rival (Mila Kunis) who might or might not be a figment of the dancer's imagination...

Anapau plays Russian dancer Galina, a soloist in the ballet company who's fiercely competing with Portman's character, Nina, for the lead role in Swan Lake."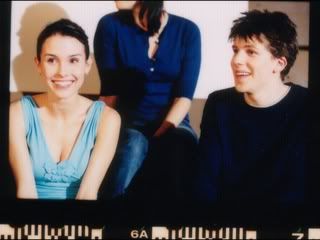 Kristina Anapau and Jesse Eisenberg as Brooke and Jimmy
in "Cursed" (2005).
Jesse Eisenberg & Kristina Anapau in "Cursed" (2005) directed by Wes Craven.


Anapau also starred in Wes Craven's Cursed; and is set to star in yet another werewolf project, the upcoming "First Howl".
Source: www.fearnet.com